THEA Center for Regenerative Medicine focuses on cutting-edge regenerative therapies in order to: relieve sufferings for people with chronic & degenerative conditions, and optimize health to help everyone achieve a younger and a more vibrant life.
Founder & Medical Director of Thea CRM
Joy Kong, M.D
Graduated as a valedictorian from San Francisco State University, Dr. Kong completed her medical training at UCLA School of Medicine. As the result of her intense interest in the human brain, she specialized in psychiatry, and worked at a Veterans Affairs hospital and LA county hospital, and helped countless patients in dire needs. While working in the hospital ER and in county clinics, she realized the futility of trying to treat someone without examining the person in a holistic manner, which lead to her interest in integrative medicine. She believes in respecting the complexity of our own microcosm and taking into the account its interactions with the environment. She implemented such holistic approaches while being the medical director of several alcohol & drug rehab centers in Los Angeles.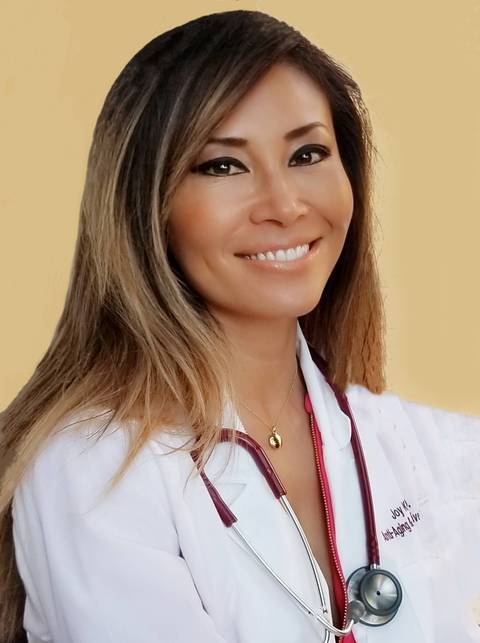 As she became more familiar with the discipline of anti-aging medicine, she fully embraced its principles of addressing the complex interlinking factors that contribute to declines in the aging process. She became very passionate about regenerative medicine because of the transformative power it brings, and the sound science it is based on. She achieved remarkable success in helping her own patients using regenerative medicine, in many cases people who could not get better for years despite of seeking help from various specialists. Dr. Kong is keen on keeping up with the latest scientific discoveries and technology, and consulted with many regenerative medicine experts from around the world, and has lectured internationally on stem cell therapy. Dr. Kong is dedicated in educating other physicians on the principles and implementation of regenerative medicine, so a great many more people can be helped.
Dr. Kong is a member of American Academy of Anti-Aging Medicine, certified in advanced cellular therapeutic protocols, is board-certified by American Board of Psychiatry and Neurology, and American Board of Addiction Medicine.
Dr. Kong is the founder of Chara Biologics, a company that provides premier regenerative medicine products to physicians across the United States. She is also the president of American Academy of Integrative Cell Therapy, and an avid educator, helping physicians to become fully trained in the science and practice of regenerative medicine. Dr. Kong is also keenly interested in clinical research to advance the field of regenerative medicine, and has cofounded a research organization to conduct a variety of clinical studies.
Feel free to reach out anytime. We'd be happy to help you